---
YOUR EXPERIENCE MEANS EVERYTHING
---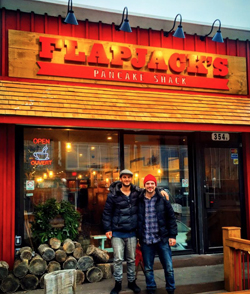 ---
Meet Flapjack's owners Corey Sauve & Max Anisman, born and raised in Ottawa. Quality Canadian comfort food, atmosphere and customer service are the most important contributing elements towards Flapjack's success.
Founded in the freezing cold Ottawa winter of 2013, Flapjack's team has worked towards becoming an integral part of both Ottawa culture and Canadian culture.
Flapjack's has the pleasure of serving hundreds of thousands of locals and tourists every winter on the Rideau Canal Skateway. Known for the Breakfast Panwich (fried egg, bacon and cheddar between two buttermilk pancakes), Flapjack's has quickly become an Ottawa 'must visit' diner destination.
Flapjack's Preston St. restaurant serves up delicious, poutines, burgers, club sandwiches, wraps, milkshakes, pancakes and more Canadian classics.
Whether you are a tourist visiting or a local looking for a cozy place to dine, Corey, Max and the Flapjack's team look forward to meeting you.
Contact Corey and Max directly by emailing Feedback@Flapjacks.ca